April 20, 2020
Kid-friendly promo gifts worth sending are appreciated right now to help families create a work/life balance while quarantined at home.
While we're all adjusting to the many changes in lifestyle that have come with Covid-19, we know families with young children are facing unique challenges. With kids home from school, it can be especially difficult to strike a balance between parenting, supporting distance learning efforts, and working from home. Here are a few promo gifts worth sending that can help keep kids stuck at home occupied.
Crayons and Art Supplies
Drawing and coloring are activities that children of all ages (and many adults, too!) love. A classic box of crayons is a great option for helping kids entertain themselves, but there's no need to limit your promotional items to basic crayons if you are looking for something different.
For younger kids, the Crayo-Craze® Six-Color Crayon Wheel offers the advantage of a box of six crayons in one easy-grip wheel! Crayo-Craze is non-toxic and perfect for creative little hands at home, at school, or on the go.
If you prefer to send an entire kit, consider this Spiral Bound Notebook Coloring Book, which includes 25 coloring pages, 25 blank pages for doodles, and 12 colored pencils in their own PVC pouch.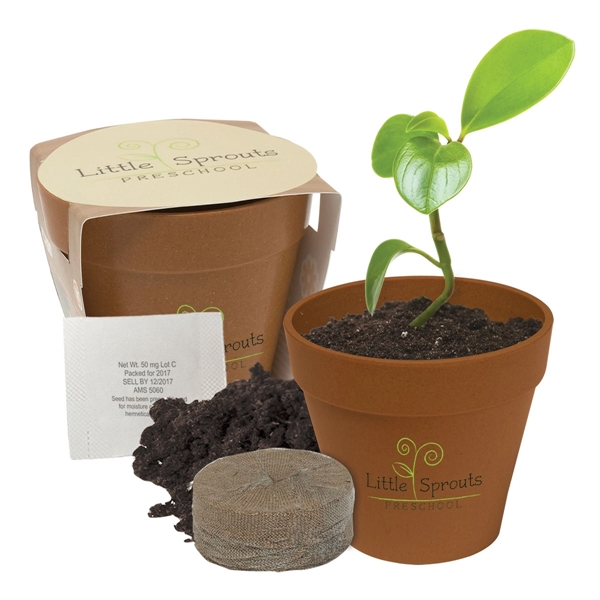 Planting Kits for Hands-on Learning
Parents are looking for hands-on activities more than ever. With spring gearing up in much of the world, what could be more fun and engaging than growing a few plants?
Our Full-Color Grow Your Own Herb Garden comes in three varieties, is packed attractively inside a recycled 6-count egg carton, and features your full-color logo. It's a great and practical giveaway that will be received well by kids of many ages, and grownups, too!
If you'd rather grow trees than herbs, we also offer a Pine Tree Planter. Kids and adults alike will enjoy the satisfaction of growing their very own pine tree in a biodegradable pot made from spruce wood, until it can be transplanted outside. Choose from four stock label designs.
Puzzles and Fidget Toys
Nothing keeps kids busy indoors quite like creative puzzles! Fortunately, we offer a wide variety of ways you can help fill this need.
This Wooden Poseable Robot Puzzle is a fun fidget toy (and a great conversation piece). Imprint your logo on the chest or face. Constructed of wood and held together with strong elastic bands, it keeps little hands busy and helps stretch young minds while everyone stays safe indoors.
Or how about a Full-Color Jigsaw Puzzle? Ours has 35 pieces and is completely customizable to your brand.
If you want to really think outside the box, consider the Ball of Whacks Creativity Tool This item is more versatile than a puzzle and more fun than a brain teaser. There's no wrong way to play with it! It consists of 30 magnetic design blocks that can be rearranged into a wide variety of shapes, and it comes with a 96-page illustrated guidebook.
Other Creative Promo Gifts Worth Sending
Consider these other ideas for helping to keep kids entertained and engaged.
This Full-Color Sticker Bookmark is two items in one, and it promotes reading. And who doesn't love stickers?
Or you might go for our Full-Color Assorted Foam Putty, a simple but popular children's toy that offers creative entertainment and features your full-color imprint on the label.
If you want something classic, a Domino Set in Wooden Box is another great option. A travel set of the classic domino game, it's neatly packaged in an imprintable wooden box with a sleek sliding cover.
You can deliver any of these items right to the doorstep of your clients, prospects, or employees as a reminder your brand is here during this complex time. Looking for more ideas about staying in touch with consumers during our "new normal"? Reach out on our contact page, email us at Hello@GBpro.net or DM us on Instagram.